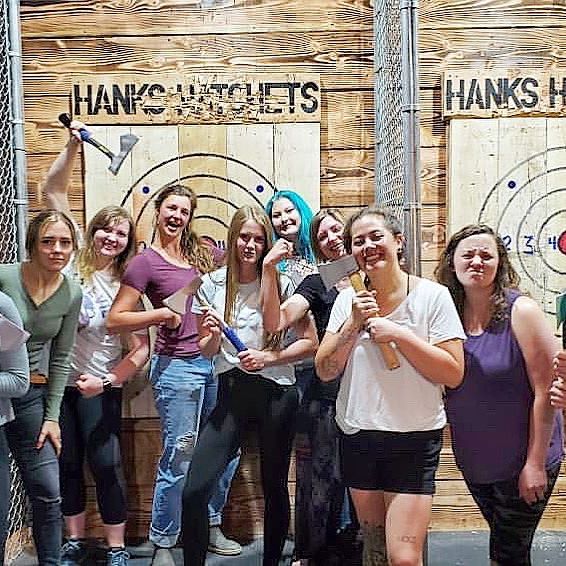 Whether young or old, fit or not-so-fit, axe throwing is accessible to every skill level. You don't need to have jacked arms, but you do need to like having fun.
We also offer private axe throwing events where you can book a group of 10 or more people with guaranteed axe throwing times of 2 hours.
For your axe throwing event, you'll get a private lane (or lanes depending on group size) to practice and throw. You'll also have one of our axe throwing coaches who will instruct your team on how to throw an axe.
Hank's allows you to bring your favorite party snacks, and of course cake. You can also bring your favorite beer or wine. If you'd rather have treats delivered, we'll provide you with a list of local vendors who serve up only top-notch fare.
2 Hours of axe throwing with all of your friends, family or colleagues. You'll have the whole place to yourselves and our friendly staff will make sure your event goes off without a hitch. We have 12 targets that can hold up to 50 throwers. Don't forget that groups of this size can book their event any day of the week and outside of normal business hours.
Call to book your full facility rental. When booking the full facility children 7+ are allowed, as long as there is no alcohol in the minors lane.
20 people ………. $600
30 people ………. $800
40 people ………. $1000
50 people ………. $1300
Book your private event at Hanks Hatchets Whitefish, Montana today.
---